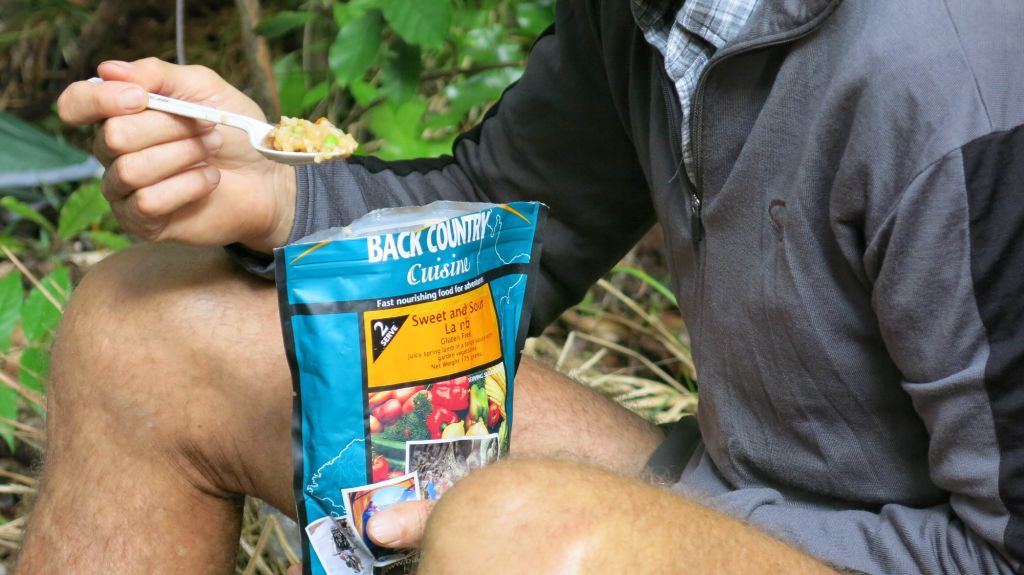 HOME | ABOUT US | CLUB DETAILS | ENVIRO CARE CODE | GEAR LIST | GUIDELINES | LINKS | RECIPES | TRAMPS
RECIPES

To make up for a drink to take tramping: (Uncle Jacko's recipe )

* Permission was kindly given to use this recipe by UJCC *

FMC Bulletin www.fmc.org.nz

Mix together:
23grams lo salt, 27grams table salt, 25grams sodium bicarbonate, 200 grams glucose. Store in airtight jar.

Add one heaped tablespoon of above mixture to 1 litre of water.

Making Your Own Dehydrated Meat (Using a fan oven or dehydrator)

Method:

500 gm lean mince beef, 2 Oxo cubes beef flavour, 1 onion finely chopped, 4 tablespoons Worcestershire Sauce, 2 tablespoons Soya Sauce, 1 teaspoon mixed herbs.
Cook mince dish in fry pan for 5 - 8 minutes until the bulk of the liquid has gone and the meat begins to fry. Spread on metal trays in a monolayer and dry 80°C for 4 hours minimum fan oven setting. Turn & crumble very 1/2 to 1 hr. Vacuum pack in plastic bags and store in freezer.

Sweet & Sour Pork:

600gm minced lean pork, Fresh Ginger (golf ball size), 1 clove garlic crushed, 2 teaspoons mustard pickle, 2 teaspoons soya sauce, 2 tablespoons Vinegar, 1 tablespoons Brown sugar,
300gm tin crushed pineapple, 1 tablespoon cornflour to thicken at the end.
Cook ingredients for 45 minutes until tender, add pineapple near the end and thicken with the cornflour.

Rehydration:

Cover with water & Stand. Bring to boil and simmer a few minutes. Leave to stand until fully hydrated. Thicken if required using cornflower and serve.

A Simple Tasty Meal: (Suitable for a weekend trip)

1 Large Continental Pasta (e.g. cheese & leeks), 1 Cup Macaroni Noodles (to beef up the volume), 1 Tin Tuna (curried tastes great), Add the requisite water for both the packet pasta and the extra macaroni. Stir in 4 tablespoons of powdered full cream milk. Bring the water to the boil and add both the pasta and the macaroni. Simmer for 10 minutes. Serve and add the tuna on top. Serves two with plenty or three small eaters.

Scroggin:

Raisins, peanuts, sultanas, chocolate, coconut. (Any variety of dried fruit can be used) Mix all together and keep in a plastic bag or container.
There are commercial brands available but nothing beats putting your own mixture together. A visit to the bulk food store at the supermarket should inspire you.

Tararua Biscuits:

550g rolled oats, 350g wholemeal flour, 225g brown sugar, 225g butter, ½ teaspoon salt,
1 tablespoon golden syrup. Melt butter and syrup and add to the other ingredients. Add a little warm water so the mixture will stick together. Roll out to about 6mm thick and cut into biscuits. Bake on a greased tray in a moderate oven for about 30 minutes - longer if you want jaw breakers.

© Whangarei Tramping Club