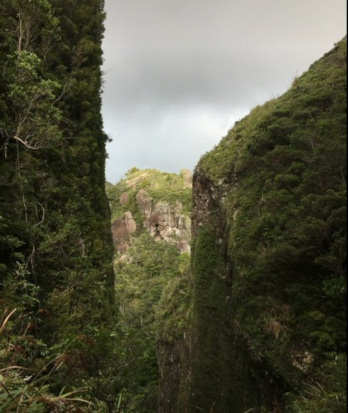 ABOUT US
HOME | ABOUT US | CLUB DETAILS | ENVIRO CARE CODE | GEAR LIST | GUIDELINES | LINKS | RECIPES | TRAMPS
WE ARE NOT A WALKING GROUP

We are a tramping club and tramp for 4 to 6 hours every Sunday which are to local places like the Western Hills or Tangihua Forest Park. We leave Laurie Hall car park at 8.30am (no later), we car pool and share petrol costs per kilometre.
Weekend trips usually go a little further afield, the Waitakeres, or Puketi State Forest. We venture even further afield on long weekends to places such as the Coromandel, Kaimais or Urewera National Park. For the real outdoor types, we also organise longer trips that require overnight camping.

Tramps are graded:
A Easy: suitable for tramping for 4 hours.

A+ Easy to moderate. Average fitness required.

B Moderate, requiring good fitness and some tramping experience.

B+ Hard, tiring. Requires above-average fitness and experience.

It is true that anyone can participate in tramping without being a member of a club;however belonging to a club brings many benefits. Benefits such as meeting like-minded people from a range of backgrounds, many with years of hard earned experience.

Once you have completed 2 tramps with us we expect you to become a member of our club. New club members can draw on this experience and learn safer and easier ways of doing things. There is instruction in bush craft, navigation and mountain skills, and regular organised trips where transport is arranged and the route checked in advance.

Our club can introduce you to the great New Zealand outdoors, and you'll also meet some great new friends on the way.
Whangarei Tramping Club Bank Acc - BNZ 02049 20045 327 00 - Please add your name for reference.
Click here to get a copy of our 'Application to Join' form.

© Whangarei Tramping Club